3i University Network
Joint call for projects 2022 - 2023
In 2020 the University of Kent, Université de Lille, KU Leuven and Ghent University established the Interregional Internationalisation Initiative, the 3i University Network. The main goal of the network is to bring together universities, regional governments and the private sector/civil society to work on challenges common to Flanders, Kent and the Hauts-de-France. By virtue of their proximity, the three regions share challenges in a number of areas, including, but not limited to
Marine and maritime questions (blue energy, preservation of the coastal environment…)
Climate and energy (net zero, sustainability, energy security etc)
Nutrition and health (sustainable, healthy alternative food sources, …)
Communities and well-being (migration and refugee studies, vulnerability and inclusion of ageing populations and people with disabilities,…).
In order to enhance cooperation between the 3i-partners, the members of the 3i University Network have decided to put out a call for proposals for collaborative projects. This call aims to support academic staff of the four partners who want to set up or increase their cross-border collaborations with the specific goal of submitting joint project applications for larger grants.
Maximum funding available per project: €10.000 for one project per thematic cluster of the 3i University Network.
Total budget available for this call is 40.000€.
Find out more about this call here:
---
Blue Opportunity and Networking Day
In the framework of the Marine and Maritime challenges workshop, a parrallel event is organised in Ostend, the Blue Opportunity Day on 6 July 2022. Please find enclosed the programme of this day and do not hesitate to register and meet us next week to discuss possible cooperation between the partners of the 3i University Network, public bodies and companies!
Registrations are still open: https://marineatugent.be/visit-marine-and-maritime-challenges-3i-network-cluster-ostend-science-park
---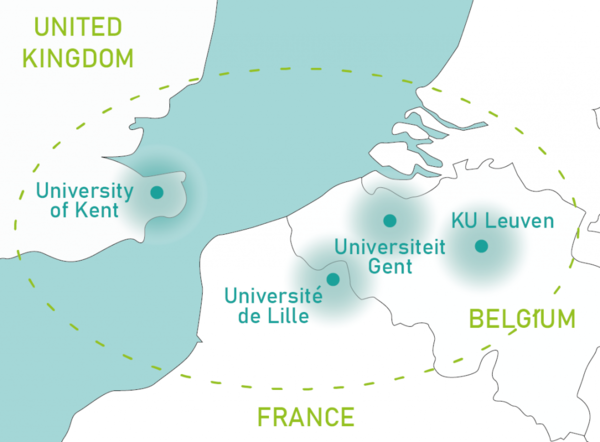 The Interregional Internationalisation Initiative University Network (3i Network) is a collaboration founded by Universiteit Gent, Katholieke Universiteit Leuven, the University of Kent and the Université de Lille.
The main goal of the network is to bring together universities, regional governments and the private sector/civil society to work on challenges common to Flanders, Kent and the Hauts-de-France.
The founding universities are convinced that cooperation encourages innovation and creativity and can result in projects which benefit the population, businesses and other organisations in their respective regions.
To maximise impact and the full innovation potential of European ecosystems, experience shows that strong territorial innovation ecosystems based on excellence are essential.