News
[RESULTS] - Joint call for projects 2022 - 2023
In 2020 the University of Kent, Université de Lille, KU Leuven and Ghent University established the Interregional Internationalisation Initiative, the 3i University Network. The main goal of the network is to bring together universities, regional governments and the private sector/civil society to work on challenges common to Flanders, Kent and the Hauts-de-France. By virtue of their proximity, the three regions share challenges in a number of areas, including, but not limited to
Marine and maritime questions (blue energy, preservation of the coastal environment…)
Climate and energy (net zero, sustainability, energy security etc)
Nutrition and health (sustainable, healthy alternative food sources, …)
Communities and well-being (migration and refugee studies, vulnerability and inclusion of ageing populations and people with disabilities,…).
In order to enhance cooperation between the 3i-partners, the members of the 3i University Network have decided to put out a call for proposals for collaborative projects. This call aims to support academic staff of the four partners who want to set up or increase their cross-border collaborations with the specific goal of submitting joint project applications for larger grants.
Maximum funding available per project: €10.000 for one project per thematic cluster of the 3i University Network.
Total budget available for this call is 40.000€.
6 projects funded:
---
Blue Opportunity and Networking Day
---
---
3i network: Great success for the « blue park » summer school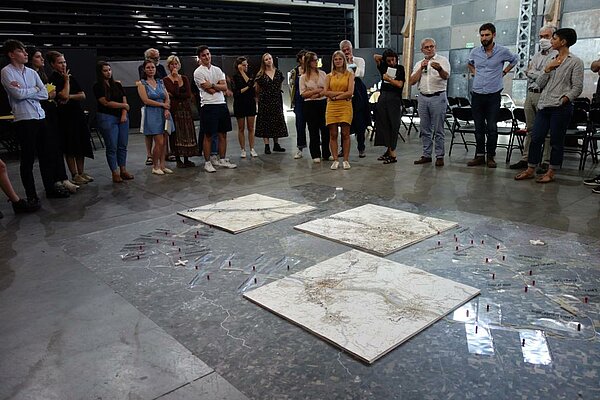 ©Bénédicte Grosjean
From August 30 to September 8, in the premises of the Condition Publique in Roubaix, a summer school, organized jointly by ENSAP Lille, Louvain Catholic University architecture faculties (and its Tournai campus), and KU Leuven (and its Ghent campus), and with the participation of VIVES (Kortrijk social sciences school), gathered 24 students of 11 nationalities, coming from several European institutions (e.g. ETSA Barcelona, TU Wien, Polytechnic University of Turin).

This project is linked with the collective territorial project named "Le parc bleu" long time managed by the founding members of the Lille-Kortrijk-Tournai Eurometropolis. Addressed in all its dimensions (from the Seine-Nord canal to streams, wetlands and groundwater), water is seen as the common structure that can bring together cross-border residents around a quality of life, but also environmental, economic, cultural, historical issues. This territorial project, led by an action group of the Eurometropolis, is implemented in a progressive and cumulative way through numerous actions, studies and achievements, including several summer schools, which produce forward-looking visions, imagine transformations and draw new places in relation to water.
For this edition, the students focused on three cross-border situations: Roubaix-Leers (France-Wallonia), Celles-Avelghem (Wallonia-Flanders), and Menen-Halluin (Flanders-France). In addition to the themes of the place of water in the territory, leisure and mobility, which have already been developed, this year they have focused on diversity, through the crucial issue of biodiversity but also of social inclusion, so that the quality of life in the "blue park" is accessible to everyone.

This summer school was an opportunity to deepen knowledge of the territory, through three one-day fieldtrips organized by bike, to open to the public the conferences organized to nurture students' projects, or even to allow the debate between local actors, during the various presentations to the present partners (elected officials, technical services, town planning agency, etc.).
I-Site ULNE foundation (Lille) co-funded this project in the frame of the « 3i network cross-border collaborations » call for projects.
---
21 projects funded to strengthen cross-border collaborations
In order to strengthen collaborations between academics or bring about new ones, a total of 21 projects were selected and funded to a total amount of €200 937. These projects are funded by the I-SITE ULNE Foundation (Lille) and will allow the creation of networks, the organisation of seminars, workshops, symposia, summer schools or working meetings in Lille, Flanders or Kent between September 2021 and March 2022. The financing of these projects also aims to boost cross-border cooperation in order to obtain, in particular, European funding.
Of those projects funded:
Three involve members of all four partners of the network
Ten involve researchers from three universities in the network
Eight plan to involve bilateral collaboration
The projects cover very diverse themes such as history, political science, linguistics, textiles and fashion, migration, art history, literature and the comic book, artificial intelligence and neuroscience, chemistry and catalysis, environmental and energy sciences, healthcare, food security, crises caused by Covid, mining territories, pedagogical innovation, and cross-border trade.